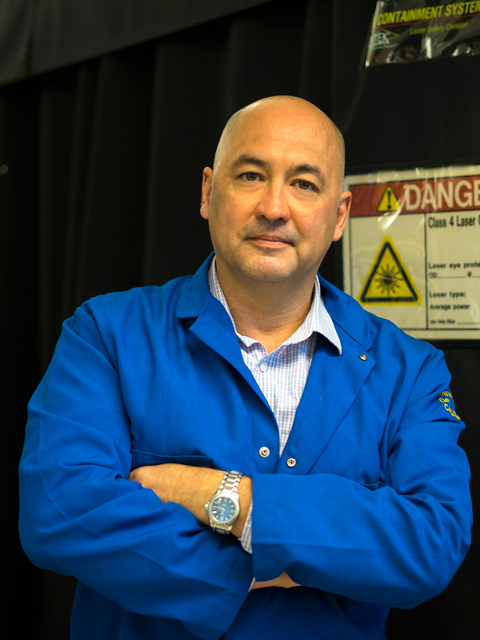 Welcome to UCR's 

Nanofabrication Facility

 
Nanotechnology is not only changing the way that science and engineering are practiced but it is vastly improving the quality of life by bringing about revolutionary advances in electronics, computing, communications, engineering materials and medicine. It is therefore essential that UC Riverside pursues preeminent positions in a broad swath of nanotechnologies. 
The Nanofabrication Facility was established to achieve this vision by crossing the border of two colleges - the Bourns College of Engineering (BCOE) and the College of Natural and Agricultural Sciences (CNAS), together with strong ties to the Materials Science and Engineering (MS&E) Program, Division of Biomedical Sciences, and UCR Medical School. The facility brings together scientists from the disciplines of engineering, physics, chemistry, materials science and medicine.
In the core of the Nanofabrication Facility are the Cleanrooms – campus-wide users' facilities located in the Bourns Hall and Materials Science and Engineering buildings.
The Nanofabrication Facility:   
Enables the world-class research and graduate student training in all areas of nanotechnology

Fosters interdisciplinary research and cooperation among scientists and engineers  

Provides a state-of-the-art environment for graduate students, postdoctoral researchers and professors from all countries

Ensures the highest international academic standards, integrity, equality and diversity, as well as respect and recognition for all

Maintains the highest level of safety

Serves as the framework and precursor for future externally funded multi-PI projects and research centers at UCR

Facilitates cooperation with the high-tech industry in the Inland Empire and California
The Nanofabrication Facility focuses on promoting the following research thrusts – next generation electronics, spintronics, low-dimensional materials and devices, and nano-medicine. In addition to providing essential nanofabrication capabilities for research in electronic materials and devices, the facility aids in the pursuit of research and education in emerging and interdisciplinary fields such as heterogeneously integrated devices and circuits, sensor technologies, biomedical, renewable energy, and environmental engineering. The Center fosters cooperation among BCOE, CNAS, Medical School and local industry. 
The Nanofabrication Facility enables the faculty, students, and industry collaborators to access a broad array of equipment to enhance their research capabilities, and become more competitive in obtaining federal, state, and private funding. The facility advances the UC Riverside objectives of increased research and educational visibility, enhancement in academic rankings, and federal research funding.  
We are looking for cooperation with you and hope that you will be able to use the facility in the near future. 
Thank you.
Sincerely,
 
Alexander A. Balandin, PhD
Fellow of APS, MRS, IEEE, OSA, SPIE, AAAS
Director of UCR's Nanofabrication Facility
Distinguished Professor of Electrical and Computer Engineering 
University of California Presidential Chair Professor
Founding Chair of Materials Science and Engineering 
University of California – Riverside, CA 92521 USA   
UCR's Nanofabrication Facility: http://www.cnse.ucr.edu/ 
Research Group: http://balandingroup.ucr.edu/